Massive and the Meg

Jon Turteltaub's The Meg is primarily about not one, but two, giant sharks, or megalodons. However, when the largest of those beasts is almost defeated at the hands of expert diver Jonas Taylor (Jason Statham), it signals the arrival of a shiver of normal-sized sharks, swimming straight past Jonas as they come in for the final Meg kill.

For that shark arrival scene, Turteltaub called on the artists at visual effects studio Sony Pictures Imageworks, which handled the shiver using Massive. They were able to create significant shark motion from a custom Massive brain for the shots, and do so using just one animation cycle. Imageworks visual effects supervisor Sue Rowe says the result was something that stood out for her on the project.

"It was very reminiscent of what was in the previs," says Rowe. "It had come from a conversation between production visual effects supervisor Adrian De Wet and John Turteltaub as they looked at reference of hammerhead sharks in the Caicos islands. It's so beautiful and clear there - you can see for miles."


When sharks attack

With a large field of view, the shots called for a large number of sharks, one of the reasons why Imageworks turned to Massive. Agents were developed for several species of shark from near to deep background, and crowd performance was ultimately employed in six shots for the final cut.

In getting to that final cut, Imageworks had to be adaptable, since the extent of the shark shiver and the behavior of the sharks was not fully determined until late in production. "Massive was chosen because its power, flexibility and existing footprint in the studio enable a wide scope of crowd production with a small team," outlines Imageworks lead crowd TD Kevin Kitchel.

"In addition to facilitating a quick progression from initial blocking to final composition," adds Kitchel, "Massive was instrumental in leveraging procedural modifications of only one animation cycle to accomplish crowd behavior with individual characteristics of shark motility."
Tuning in to shark behaviors

Agents were built for Great White, Bull, Tiger, Hammerhead, Nurse, and Mako sharks, from separate rigs with shared brain development. As noted, just one animation cycle provided the basic movement and was applied to all sharks with brain adjustments to generate realistic speed changes, turning, head/jaw/fin movement and to accommodate proportional differences in the rigs. Being able to generate only a single animation cycle but use that for all shark motion proved to be a large time-saver for Imageworks.

As well as locomotion refinement, agents were equipped with navigational capabilities for target seeking, avoidance and formation restrictions, while population diversity was achieved with size and speed variations and randomized movement.

The final screen time did not necessarily allow for a full display of developed behaviors, however, the prominent attribute given to the digital sharks was aggression. "This," explains Kitchel, "was primarily exhibited through quickness and darting with head and jaw movements and an increased determination in target attraction."

"The degree of aggression was incrementally elevated as the sequence progressed and the sharks approached the Meg. Though it wasn't needed in the final shot work, an attack mode was generated so a shark could target and acquire prey in its jaws, chomp, thrash and pull away."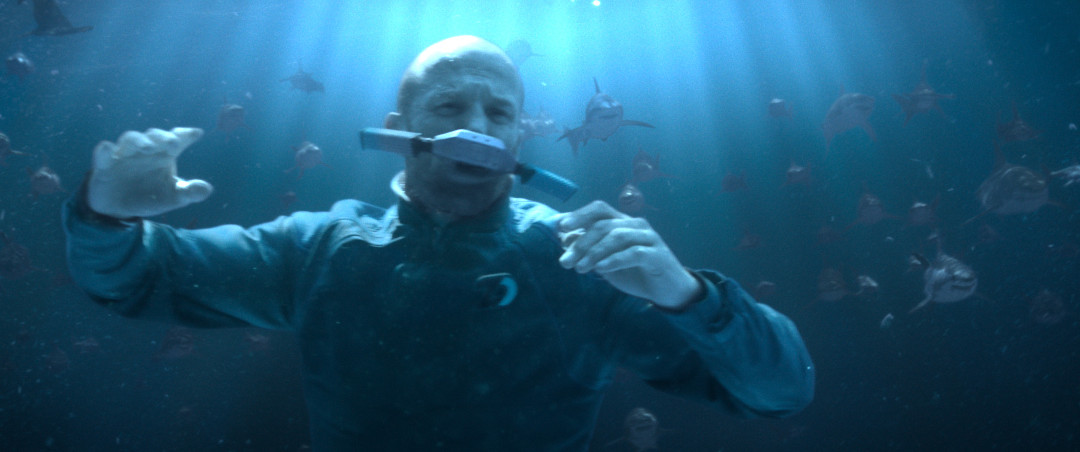 Photo Courtesy of Warner Bros. Pictures<
Massive in production

Kitchel notes that, after setup and agent development, the production shots took only a few days each - "We were prepared for much higher throughput if required," he says.

Some iterations were required, including adjusting the number, type and composition of individual sharks in the crowd." The importance of seeing the recognizable silhouette of each shark became evident in lighting," details Kitchel, "so a transform stack was scripted in Katana to fine-tune the angle of each agent to camera."

The shots needed to be achieved relatively quickly; in addition to the ability to apply shark motion from the single animation cycle, what helped save time was Imageworks' already established and supported crowd pipeline. This incorporates Massive, with custom tools on the asset development front-end in Maya, and in Katana to render with Arnold.

"We also have tools to load and adjust output from Massive in Houdini and visualize in Maya," says Kitchel, "so our use of Massive is well integrated within our departments."

For Sue Rowe, having a crowd simulation tool that artists could efficiently fine-tune as the sequence came together was vital in getting these shots for The Meg done on time. She also marveled at the beauty of the final shark crowds as they swarm together on screen.

"That was one of my favorite images," says Rowe. "We really wanted to make sure that it felt like a pack of piranhas coming in. They just look beautiful."